Barbie Dreamland: Explore MAXYOYO's Latest Trends for Ultimate Pink Elegance Space!
In the enchanting world of childhood dreams, every little girl has imagined herself as a radiant princess in a magical kingdom. With MAXYOYO's exquisite range of Barbie accessories and furnishings, that dream can now be transformed into a reality. From a chic haven to a Bohemian-style retreat, MAXYOYO offers an array of options to help you create the perfect pink princess room. Let's embark on a journey through the enchanting possibilities that MAXYOYO brings, turning your imagination into an elegantly designed space fit for a Barbie princess.
Elevate Lifestyle: A Chic Haven with Pink Japanese Futon Mattress
The foundation of your pink princess room begins with the right choice of bedding. MAXYOYO's Pink Japanese Futon Mattress not only exudes charm but also offers exceptional comfort. Inspired by the elegance of Japanese design, this exquisite piece adds a touch of sophistication to your space. The delicate pink hue evokes a sense of grace and tranquility, setting the perfect ambiance for your royal abode. Crafted with meticulous attention to detail, the Pink Japanese Futon Mattress becomes more than just a piece of furniture – it transforms into a sanctuary where you can escape, unwind, and let your imagination flourish.
Sassy and Versatile: Unveiling the Pink Bean Bag Sofa Bed
MAXYOYO's innovative spirit takes center stage with the Pink Bean Bag Sofa Bed, a versatile addition to your pink princess room. This trendsetting piece seamlessly combines style with functionality, offering a cozy lounge during the day and a comfortable bed at night. The vibrant pink color adds a playful touch to your surroundings, while the bean bag filling ensures luxurious comfort. Add a touch of sassiness to your pink princess room with MAXYOYO's Pink Bean Bag Sofa Bed. Whether you're lounging with friends or hosting a sleepover fit for a princess, the Pink Bean Bag Sofa Bed adapts to your every need. The Pink Bean Bag Sofa Bed becomes your throne of relaxation, a place where you can rest like a true princess and enjoy moments of leisure.
Boho Beauty: Creating a Bohemia Style Retreat for You with Futon Mattress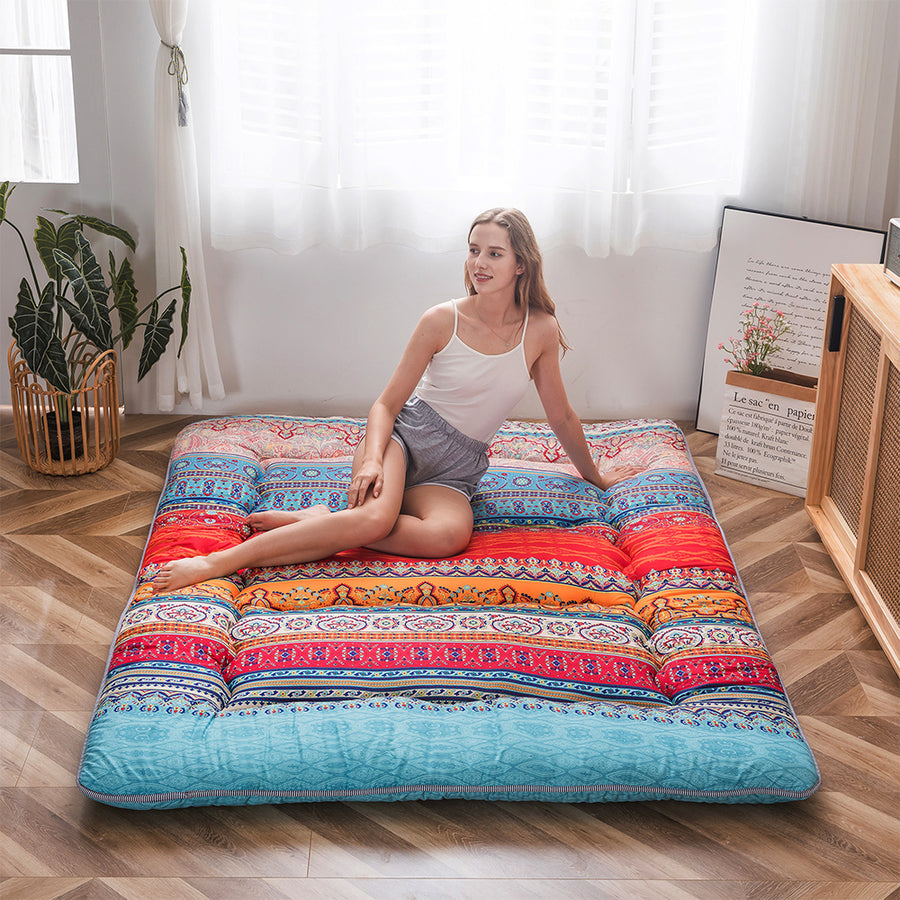 Indulge your inner bohemian princess with MAXYOYO's Bohemia Style Futon Mattress. Adorned with intricate patterns and vibrant colors, this piece becomes an artistic expression within your pink paradise. Each thread tells a story of creativity and cultural richness, immersing you in a Bohemian-style retreat that celebrates your unique spirit. As you recline on this masterpiece, you embark on a journey of self-discovery and inspiration, embracing the carefree essence of a boho princess. The blend of the futon's pink elegance with bohemian elements creates a unique and enchanting atmosphere that reflects your individuality and artistic spirit.
A Pink Paradise: The Irresistible Allure of the Pink Bean Bag Chair
No princess room is complete without a touch of paradise, and the Pink Bean Bag Chair by MAXYOYO is the epitome of irresistible allure. As you sink into its plush embrace, you experience unparalleled comfort while immersing yourself in a world of sophistication. The chair's luscious pink hue effortlessly enhances your surroundings, becoming a statement piece that reflects your royal aura. Whether you're reading a book, watching your favorite Barbie movies, or simply daydreaming, the Pink Bean Bag Chair envelopes you in comfort and style.
Tiny Comforts for Mini Friends: The Pink Kids Fold Out Sofa
Don't forget about your little princesses-in-training! MAXYOYO's attention to detail extends to even the tiniest inhabitants of your princess realm with the Pink Kids Fold Out Sofa. This miniature masterpiece provides your little companions with a cozy and stylish space to gather, bond, and embark on delightful adventures. It showcases MAXYOYO's dedication to creating a magical experience in every corner of your pink paradise, ensuring that every friend, no matter how small, can revel in the ultimate comfort and luxury. Its delightful pink color sparks creativity and adds a charming touch to the room, ensuring that even your smallest companions feel like royalty.
Transforming Dreams into Reality: MAXYOYO's Commitment
MAXYOYO's commitment to helping you transform your dreams into reality goes beyond their stunning furniture collection. Their customer-centric approach, attention to detail, and passion for design ensure that your experience in creating your pink princess room is nothing short of magical. With MAXYOYO, you're not just purchasing furniture; you're embarking on a journey to create a space that mirrors your aspirations, personality, and dreams.
Spread the Magic: Share Your Pink Princess Haven
Once your pink princess room is complete, don't keep the magic to yourself—share it with the world! Capture the essence of your enchanting haven through photographs and share them on social media to inspire others to embrace their inner Barbie princess. Use the power of hashtags like #MAXYOYOPrincessRoom and #BarbieDreams to connect with like-minded individuals who are passionate about creating their own dreamy retreats.
Live Happily Ever After: Your Pink Princess Journey
Embarking on the journey to create a pink princess room with MAXYOYO is a delightful adventure that allows you to embrace your love for all things elegant, stylish, and whimsical. From the chic haven of the Pink Japanese Futon Mattress to the playful charm of the Pink Kids Fold Out Sofa, MAXYOYO's furniture empowers you to curate a space that not only reflects your personality but also brings joy, comfort, and a touch of magic into your life. So, channel your inner Barbie princess, dive into the world of MAXYOYO's furniture collection, and let your pink princess journey begin—a journey filled with endless creativity, boundless inspiration, and the promise of happily ever after.
Conclusion: Design Your Own Fairytale with MAXYOYO
In the world of MAXYOYO and Barbie, the dream of becoming a princess comes to life. With their exquisite offerings, you have the tools to craft a pink princess room that embodies elegance, style, and enchantment. Each MAXYOYO creation contributes a unique element to your space, transforming it into a realm where you can indulge in luxury, imagination, and the joy of being a princess. Whether it's the chic haven of the Pink Japanese Futon Mattress or the versatile charm of the Pink Bean Bag Sofa Bed, MAXYOYO invites you to design your own fairytale where you reign as the ultimate princess in a pink paradise.
---